Minneapolis St Paul Twin Cities Driving Tour MNLIFE
Relatives are in town and want to know what they can see in Minneapolis and St Paul.
So here is one tour from Rochester, MN
St Paul Minnesota State Capitol Building
by A. Hu
75 Constitution Ave St. Paul,
MN
Yeah, another state capitol with a dome ....
just down the road is the
St Paul Cathedral
Cathedral
of
Saint Paul
239 Selby Avenue
Saint Paul
,
MN
55102.
from
http://twashere.com/st-paul/
Which is a really, really big catholic cathedral, dominated by a dome that covers almost the entire main building.
Science Museum of Minnesota
120 W. Kellogg Boulevard
A big science museum that overlooks the river from the back, just at the edge of downtown
Peanuts Statues
75 W. 5th St.
St Paul
from
http://www.magazineusa.com/us/cityguide/show.aspx?state=mn&unit=stpaul&doc=16&dsc=Peanuts_Sculptures
Peanuts Sculptures
A permanent tribute to Charles M. Schulz is located in Landmark Plaza Park, where his famous characters are immortalized with permanent bronze statues of Snoopy and Charlie Brown, Sally and Linus, Lucy and Schroeder and Peppermint Patty and Marcie.
Schmidt Brewing Company, 882 7th Street West, Saint Paul, Minnesota
You can take the freeway out of town to get to Minneapolis, but if you take the local roads, you'll drive by this impressive fossil of a beer factory which they're still trying to figure out what they are going to do with it. There is a giant beer bottle on the street corner.
http://www.placeography.org/index.php/Schmidt_Brewing_Company,_882_7th_Street_West,_Saint_Paul,_Minnesota
Originally Christopher Stahlmann's Cave Brewery, this was the home of the Jacob Schmidt Brewing Company until 1990 when it closed in a leveraged buyout. It reopened in 1991 under new ownership as the Minnesota Brewing Company. The brewery experienced a brief period of success, adding the Gopher State Ethanol plant in 2000 to produce ethanol for the fuel industry. Odor and noise related to the conversion of thousands of tons of corn into ethanol was causing a backlash in the West End neighborhood around the St. Paul plant. In 2002, the brewery operations were closed, and the Grain Belt recipe and labels were sold to the Schell Brewery in New Ulm. The ethanol plant remained open for another 2 years before shutting down in 2004. However, despite changes in ownership and cease in operation, the Schmidt Brewery, remembered well by it's red blinking sign and famous slogan
The Brew that Grew with the Great Northwest
, remains an icon within St. Paul's West End neighborhood.
by A.Hu
Giant Beer Bottle
Mill Ruins Park


130 Portland Avenue South Minneapolis, Minnesota 55401

This is the big waterfall on the Mississipi river which was the site of a big mill center where water wheels directly drove mill machinery before electrical generators. Now you just get a great view of the river and the stone bridge.


http://en.wikipedia.org/wiki/Mill_Ruins_Park
wikipedia
Gold Medal Flour A. Hu
Stone Bridge, Falls on Missisippi
Spoon Bridge and Cherry
credit http://www.flickr.com/photos/timwilson/1361651/lightbox/
Walker Art Center
From Wikipedia, the free encyclopedia
Target Field
http://en.wikipedia.org/wiki/Target_Field
550 3rd Avenue North, Minneapolis, MN 55403
This is at the northern edge of the city, a very new baseball stadium, no covered roof feature.
Mary Tyler Moore Statue
Metrodome Mall of America Field
900 South 5th Street, Minneapolis, MN 55415
Day 158: Mall of America Field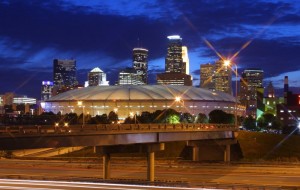 With everyone getting new stadiums, the Vikings got the next best thing: their old stadium renamed.
Mall of America Field, the stadium formerly known as The Metrodome, now has the field to themselves and no longer has to share with the Minnesota Twins. Of course, Mall of America Field, along with the name change, is also getting some much-needed renovations to keep up with the times and the demand. The Minnesota Momentum initiative is a grass-roots effort to revamp the Vikings program in an effort to keep it strong and keep in in Minnesota. Get the skinny on that program at their website.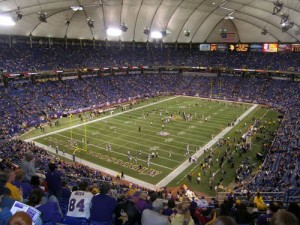 Minneapolis St Paul Twin Cities Driving Tour MNLIFE Arthur Fiddler 1400 views 11/2013